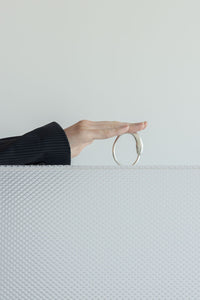 Everyday adornments; pieces made with stories embossed in them, that defy trends and know no age.

Artefact pays homage to ancient smithery and traditional craftsmanship, through a contemporary design approach that embraces unfettered forms and promotes a sense of nostalgia. The sculptural silhouettes and textural sensibilities have begun to extend beyond jewellery and into a new addition of objects and leather goods; all crafted locally in Australia using quality materials procured with the help of our reliable supply partners.

In the ever evolving landscape of the world in which we live, malleability feels more important now than it has ever felt before. Hence the transition from a namesake brand to one that feels more inclusive and all encompassing of the products we are producing and the path we are paving.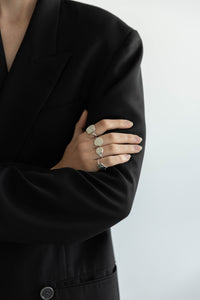 BRAND ORIGINS
Formerly known as Made By A, Artefact was founded in 2017 by designer Amelia Hancock, from what was envisioned at the time as little more than a 'side project'. It was in the midst of Amelia's studies in fashion that she became curious about metal as a medium and through self-tuition, made her foray into jewellery making.

As many budding craftspeople do, Amelia's work first flourished at a local artists' market before the business quickly called for something bigger and shifted into a collaborative studio that housed other emerging brands and designers. Now with a bricks and mortar flagship store, and a skilled team within it, Artefact looks a little different to the one-woman show that was it's inception.

While the brand and its offering has evolved since the humble beginnings, and the team have expanded the parameters, Amelia's ideologies have remained true from the very start; to create objects of permanence that invite sentimentality. Objects made by human beings for other human beings to love and pass on.